Saturday July 29th, 10am-5pm at STIC (135 E. Frederick St, Bingamton NY):  a regional meeting of upstate justice groups!  Folks from Ithaca, Cortland and elsewhere are gathering to learn from each other, support each other, and formulate a regional action agenda.
Join JUST at Binghamton's Celebration of Juneteenth, Columbus Park, June 17th,  Noon-5pm.  We will be releasing new data and a brochure on racial jailing in the county.

Vigil & Action Plan Jan 28 2017 2pm
A Jail Sentence Shouldn't be a Death Sentence

Too many have died. Far too many have been abused. Come join us. Remember those we have lost. End Mass Incarceration. Plan for a more just Broome County.
Vigil and Call to Action
Saturday January 28th, 2pm
Outside Broome County Office Building
Sept 28 2016, 5:30pm: James Kilgore speaking on "No More Jails: Five Keys to Halting Mass Incarceration at the Local Level," Southern Tier Independence Center, 135 E Frederick St, Binghamton [Grant St entrance, back side of building]. James Kilgore is author of Understanding Mass Incarceration: A People's Guide to the Key Civil Rights Struggle of Our Time, a long time activist, and educator. He is currently a Research Scholar at the University of Illinois-Urbana and is active in struggle against jail construction and opening the door of opportunity for people with felony convictions


Tabling at Juneteenth
On June 11, 2016, Justice and Unity for the Southern Tier united with several local organizations in celebration of Juneteenth (June 19th). Juneteenth celebrates the ending of slavery, particularly the release of slaves in 1865, two years after the Emancipation Proclamation. While we celebrate these changes, we aim to continue to organize with local groups against current forms of inequality, many times directly connected to the lineage of slavery and colonialism, that occur today.
Mobilizing Against the School-to-Prison Pipeline
On May 18, 2016, local activists led by CARES marched to the local school board meeting to protest  disproportionate suspensions of students with disabilities and students of color. These students are eight times more likely to end up in prison. Their call: keep our kids educated, not incarcerated.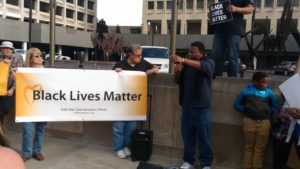 Protest Against Jail Expansion
In 2014, current members of Justice and Unity for the Southern Tier protested a proposed $6 million dollar jail expansion in Broome County. Although the expansion passed, as the legislature voted 10 – 4, students, residents, and local activists' voices were heard: most in jail have not been convicted of a crime and are held for minor drug possession and property crimes. With unity, we can fight to reverse the negative consequences of such decisions by our legislators.
For more information, visit our "JAILS" page.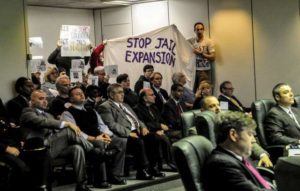 Binghamton Workshop on Solitary Confinement
How the Campaign for Alternatives to Isolated Confinement (CAIC) can collaborate with people and groups in Binghamton, including to Support a New Bill Challenging Solitary
Saturday, February 1, 2014, 11 am
Southern Tier Independence Center
135 East Frederick St., Binghamton, NY
Further information on the CAIC campaign Mcan be found at: www.nycaic.org.